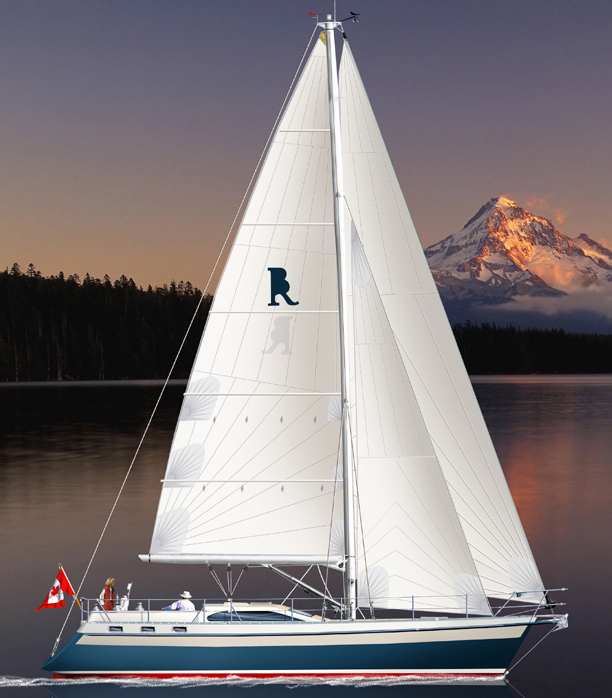 VOYAGER DS 440
Steel or Aluminum Kits, Cutting files & boat plans.
This new but already proven design features one unbroken sheerline & the latest in deck salon arrangements. By careful design we have managed to reduce the height of the sheerline thus reducing windage and improving performance.
This is one great performance cruising boat that incorporates all the design information we have gathered during 38 years of designing & building thousands of offshore cruising sailboats.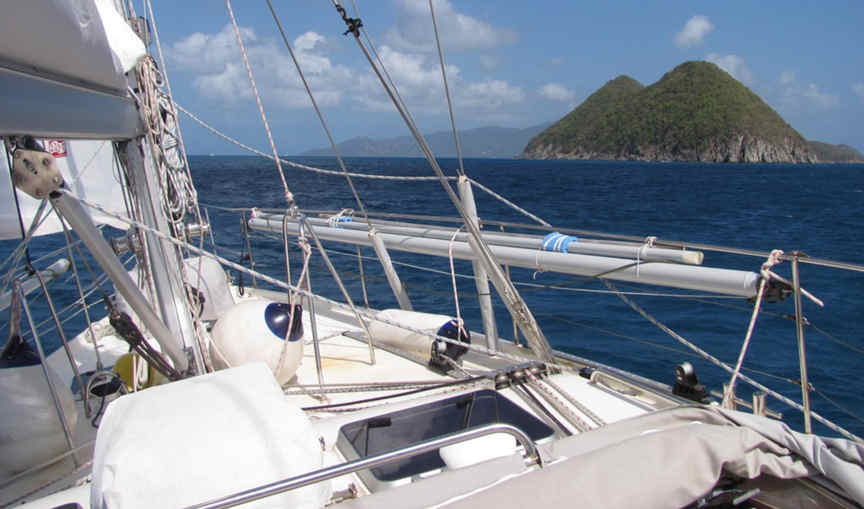 Voyager DS 440 built by the Tamás Tóth in Hungary
Dear Bruce Roberts, I'm Tamas Toth from Hungary, one of the DS440's sailing ship builder. The ship's name is Norvik.
Their website even there I am, in fact the book, too. http://www.bruceroberts.com/public/HTML/VDS440.htm In 2012, I started my journey around the world in Croatia and now I get back. From Canary Islands started Sunday and will be approximately 13 to 18 June in Gibraltar. I would like to meet you, my boat designer and thank you for your proven reliable, beautiful model. Sincerely, Tamas Toth Norvik S / Y
BELOW: Voyager DS 440 built by Tamás Tóth in Hungary and seen here anchored in some far off cruising location.
NOW BACK HOME IN HUNGARY AFTER SAILING AROUND THE WORLD - JUST ONE OF THE MANY HUNDREDS OF BRUCE ROBERTS DESIGNED BOATS THAT HAVE CIRCUMNAVIGATED THE GLOBE !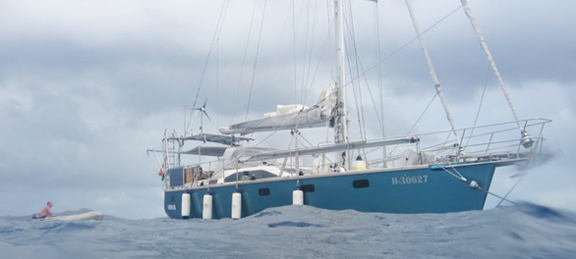 NEW SUPER STUDY BOAT PLANS ... Delivered by DOWNLOAD to your computer or on a USB stick by AIRMAIL. The study plans have lists of materials & equipment etc & these will be useful in costing out the complete boat. Each STUDY PLAN contains ALL the construction drawings for each material - STEEL & ALUMINUM, as applicable to the particular boat plan - with up to 25 sheets per plan! Lists of materials - Technical information - Numerous construction drawings are all included. You can view & print the drawings in full or in sections. Step by step KIT ASSEMBLY & BUILDING PHOTOS are included in this study plan package. PLUS you receive a FREE (value 79.95) e-book BUILD YOUR OWN BOAT. This study plan is HUGE. Please note that when you receive your credit or debit card statement the amount will be converted to YOUR local currency.

SPECIAL INTRODUCTORY OFFER: COMPLETE BOAT PLANS & FULL SIZE FRAME PATTERNS ... Delivered by DOWNLOAD to your computer within 12 hours of you placing your order. The plans have all the information you need to build your own boat.. Each plan contains all the construction drawings & CUTTING FILES for STEEL or ALUMINUM construction, plus bonus drawings covering electrical, plumbing and engineering, everything you need to build your boat. Plus you will receive a DETAIL FOLIO showing how to make many of your own boat fittings, lists of materials and equipment are all included plus all technical information, numerous construction drawings and written building instructions are all included.
You can view & print the drawings in full or in sections. BUILDING PHOTOS are included in the plan package. PLUS you receive a FREE (value 79.95) e-book BUILD YOUR OWN SAILBOAT .. Only available at this price if you order off this page .

---
COMPLETE PLANS & CUTTING FILES VOYAGER DS 440 £2,495 - €2,920 - us$3,125
EMAIL BRUCE ROBERTS DESIGN OFFICE FOR PAYMENT OPTIONS
---
COMPLETE PLANS & CUTTING FILES VOYAGER DS 445 CLASSIC £2,495 - €2,920 - us$3,125
VOYAGER DS 440 & 445 Classic.
CRUISING SAILBOATS - STEEL KIT or boat plans & CUTTING FILES.
ALSO AVAILABLE AS A CUSTOM PLAN FOR FIBERGLASS OR WOOD EPOXY EMAIL BRUCE FOR ADDITIONAL INFORMATION.
VOYAGER DS 440 radius chine kit is the latest refinement of this world cruising sailboat and has all the qualities that the Bruce Roberts designs are famous for. This hull has been designed for fast passage making but is equally at home racing around the buoys. Alternate accommodation lay-outs, various cockpit arrangements are available.
The VOYAGER DS 440 is one of the new series of sailboats that can be customized to suit YOUR requirements. We show several different possible accommodation layouts; these are arranged so you can mix & match by taking elements from one layout and switching it with another etc., PLUS of course you may have YOUR own ideas as to what would be best for your needs.
Length - Hull

13.64 m

44'-9"
Length

- Deck

12.95 m
42'-6"
Length – Waterline

12.03 m
39'-6"
BEAM
4.42 m
14'-6"
DRAFT
1.98 m
6'-6"
DRAFT (SHOAL)
1.75 m
5'-9"
Headroom
2.03 m
6'-8"
FROM THIS

TO THIS - IN JUST A FEW MONTHS !

VOYAGER DS 440
Steel Kits, Steel or Aluminum Cutting files and boat plans.

STUDY boat plans INCLUDE STEP BY STEP PHOTOS OF BUILDING OF THIS BOAT FROM START TO COMPLETION INCLUDING ALL THE INTERIOR FIT-OUT ETC.

Tamas Toth is building this radius chine VOYAGER DS 440 sailboat and is doing a beautiful job. We have over 100 STEP by STEP photos of the building of this boat from one of our CUTTING FILE packages - YOU can see all these photos and MUCH more in our super STUDY PLAN package.

12th January 2008: Norbert Toth has sent us a number of photographs of the Voyager DS 440 for use in the study plan pack and for use in my forthcoming book Illustrated Custom Boatbuilding. We recommend that you read this hardcover book - Order now and we will pay the postage.

... Norbert writes:

Hi Bruce, Now we have some experience with your Voyager DS440 boat plans. We always read on your site (mostly in the newsletters, builders feedback) that your kits fit together nicely. I think we have better than average possibilities creating the steel parts. We only had the cutting files, and we did cut the kit from steel sheets. Now that we have something assembled, we can say that the parts fit together like a charm. The boat plans are extremely accurate, Excellent boat plans, thank you very much! Best Regards, Norbert & Tamás Tóth

Many more photos of this boat actually cruising are available with the STUDY PLAN package.





VOYAGER DS 440
ROBERTS SAFETY SKEG

The VOYAGER DS 440 features the Roberts safety skeg which is designed to take the best features from the LONG FIN / SKEG combination & add a SAFETY FACTOR. You should be aware that skegs in general are vulnerable to damage so here is our answer to this problem. EMAIL Bruce to more details of this development.

Voyager DS 445 built by Julian Aldridge in the UK
from a kit supplied by Bruce Roberts Yacht Design

VOYAGER DS 445 - CLASSIC
ROBERTS SAFETY SKEG

The VOYAGER DS 440 - CLASSIC is available as a kit or cutting files so you can build this version. The obvious benefit of the Classic version is the addition of the aft deck behind the cockpit.

Hi Bruce! Take a look at my blog http://metamundus-tom.blogspot.com/ to see your newest Brazilian baby growing up. By the way, congrats to you and your staff, the parts are fitting nicely together! Wonderful job!

Best regards! Thomas Ogrizek Brazil Bruce Roberts - Voyager DS 440 Classic (Under construction)

VOYAGER DS 440
DECK LAYOUT

The VOYAGER DS 440 features a one level deck ( no poop step ) and the modern unbroken sheerline.

VOYAGER DS 440
accommodation A B & E

The VOYAGER DS 440 has SIX different layouts including a 6 berth CHARTER version with twin cabins aft.

The STUDY PLAN package shows all the alternate layouts and much more.

VOYAGER DS 440
Steel Kits, Steel or Aluminum Cutting files and boat plans or Fiberglass or Wood / Epoxy boat plans are also available.

The Voyager DS 440 is an extremely spacious boat ... Here we see two different arrangements for the master suite, both from Bruce Roberts sailboats ... one somewhat traditional and the other leaning towards the modern 'light interior' look. Both work well in this boat.

VOYAGER DS 440
Another possible layout in this versatile sailboat.

Here we see another arrangement from a Bruce Roberts sailboat that would work in this boat.
HOME / INDEX PAGE
SAILBOAT DESIGNS
POWERBOAT DESIG