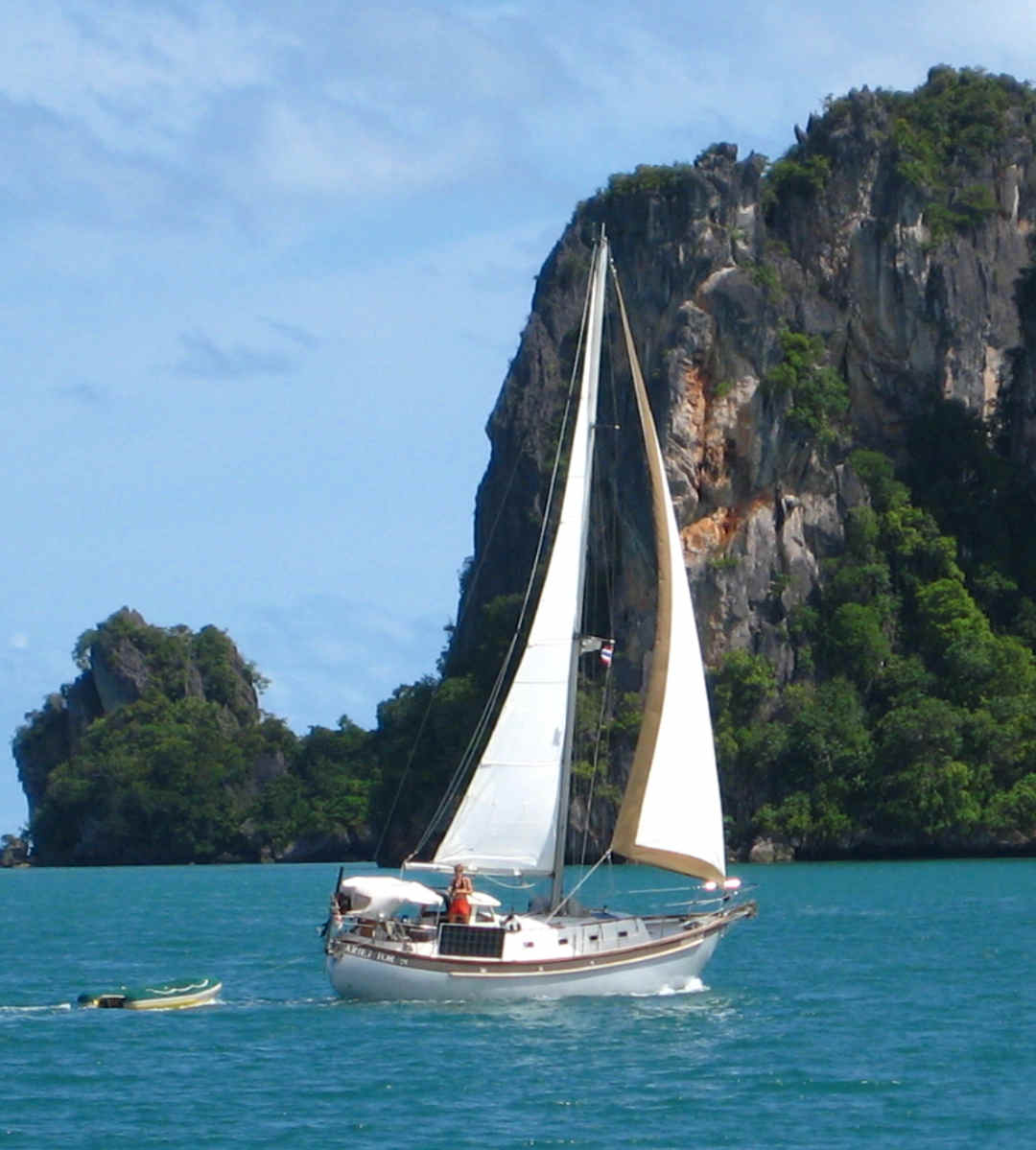 Here is a picture of Aries Tor in the Chagos archipelago in the Indian Ocean. We left Lake Ontario three years ago aboard this 341 built in Montreal in the early nineties. She has been an excellent passage maker, quite surprisingly keeping up with the bigger boats most of the time. She secured a place in my heart early on when she brought me safely through a gulf stream storm between Halifax and Bermuda. Our bow continues to point west for the time being. Thanks for an excellent design! Rob Lang
NEW ! SUPER STUDY BOAT PLANS ... Delivered by DOWNLOAD to your computer within 12 hours of you placing your order.
The study plans have lists of materials & equipment etc & these will be useful in costing out the complete boat. Each STUDY PLAN contains ALL the construction drawings for each material - FIBERGLASS as applicable to the particular boat plan - with up to 25 sheets per plan! Lists of materials - Technical information - Numerous construction drawings are all included. You can view & print the drawings in full or in sections. BUILDING PHOTOS are included in the study plan package. PLUS you receive a FREE ( VALUE £69.00 )



e-book BUILD YOUR OWN BOAT .. STUDY PLAN R 281 - R341 .. £59.95 - $99.75 - €74.75
SPECIAL INTRODUCTORY OFFER: COMPLETE BOAT PLANS & FULL SIZE FRAME PATTERNS ... Delivered by DOWNLOAD to your computer within 12 hours of you placing your order.
The plans have all the information you need to build your own boat.. Each plan contains all the construction drawings for FIBERGLASS construction, plus bonus drawings covering electrical, plumbing and engineering, everything you need to build your boat. Plus you will receive a DETAIL FOLIO showing how to make many of your own boat fittings, lists of materials and equipment are all included plus all technical information, numerous construction drawings and written building instructions are all included. You can view & print the drawings in full or in sections. BUILDING PHOTOS are included in the plan package. PLUS you receive a FREE ( VALUE £69.00 )



e-book BUILD YOUR OWN SAILBOAT .. Only available at this price if you order off this page .... COMPLETE PLANS & PATTERNS ROBERTS 341 £295- $445 - €395
| | | |
| --- | --- | --- |
| L.O.A. | 10.39 m | 34' 1'' |
| L.W.L. | 8.64 m | 28' 4" |
| BEAM | 3.50 m | 11' 6" |
| DRAFT | 1.52 m to 1.68 m | 5' 0" or 5' 6" |
| SAIL AREA | 62 sq m | 621 sq ft |
| BALLAST | 2950 kg | 6,500 lb |
| DISPLACEMENT | 7200 kg | 20,750 lb |
| AUX. PWR | | 20 - 30 hp |
Roberts 341 Version A (CANOE STERN)

Fiberglass boat plans and frame patterns

Over 100 of this fine cruising sailboat are in service world-wide. Designed for those of you that are looking for the sea going qualities of a canoe stern then this is the design for you. The R341 design was prepared for those people who are looking for a modern, high performance cruising boat that is based on the traditional Scottish fishing vessel. This strong, sea-worthy, double-ender is available with full or long fin keel, and can be rigged as a sloop or a cutter with a basic sail area of either 621 sq ft for the cutter or 559 sq ft for the sloop.

Two accommodation layouts are provided, one for the aft cockpit version (A) and one for the Pilothouse version (B). This design has construction boat plans available in FIBERGLASS only.

Roberts 341 Version A

Dear Mr. Roberts, Many years ago (approx.1983) I purchased the boat plans for the Roberts 341A and built it over the span of many years. I have now been sailing it since 1990 off the shores of Halifax Nova Scotia. I am very pleased and impressed with the sailing characteristics and appearance of the boat. I would very much like to build a model of the boat for my basement as a center-piece. However, the drawings are full size and I was wondering if I could get a 1/10 version or an offset table to produce the lines. Yours truly, Wolfgang Dzimbowski ... BRUCE replied ... no problem and sent Wolfgang some specially sized patterns.

SEE MANY MORE PHOTOS INCLUDING CONSTRUCTION AND COMPLETE BOATS IN THE STUDY boat plans PACKAGE FOR THIS DESIGN.

Roberts 341 Version A

Hi there,
I've attached a picture of Aries Tor anchored in the Chagos archipelago in the Indian Ocean. We left Lake Ontario three years ago aboard this ROBERTS 341 built in Montreal in the early nineties.

She has been an excellent passage maker, quite surprisingly keeping up with the bigger boats most of the time. She secured a place in my heart early on when she brought me safely through a gulf-stream storm between Halifax and Bermuda. Our bow continues to point west for the time being. Thanks for an excellent design! Rob Lang

Roberts 341 Version B

Roberts 341 Version B

Larry Parkinson in Texas sent us this email & photographs.

Have a "perfect" Bruce Roberts 341 and have used it to cruise the ICW from South Texas to the Keys, the Bahamas, and up the East Coast for the last nine years. Laid the keel in 1985 and launched in 1986 in Seabrook, Tx. Did not follow boat plans on cockpit, but laid it out flat from pilothouse door. Gives us a "patio" over a great workroom and generator room. Now that I've found you, I'll stay in touch and draw on your expertise. Thanks for a great boat. HONAHLEE thanks Larry

---

From: Larry Parkinson
Date: 4/20/01 Time: 3:45:24 AM
Comments: We just finished an eleven year cruise on our Roberts 341. She was built beginning in 1985, finished in 1986. The boat is a superb cruiser, roomy, and easy to handle.

Hard-cover book
DETAILS
£59.95 Post paid

Order this book & Email Bruce to claim a
FREE STUDY PLAN OF YOUR CHOICE


e-book download

DETAILS £47.50

Order this book & Email Bruce to claim a
FREE STUDY PLAN OF YOUR CHOICE


Hard-cover book
DETAILS

£47.50 post paid

Order this book & Email Bruce to claim a
FREE STUDY PLAN OF YOUR CHOICE

ORDER CODE CHOOSING