BRUCE ROBERTS YACHT DESIGN

Bruce Roberts-Goodson
EMAIL BRUCE
---
These sailboat plans feature simple & easy to follow STEP by STEP CONSTRUCTION for STEEL, ALUMINUM, FIBERGLASS & WOOD EPOXY building methods. These sailboats can be built by any person with welding skills (Steel or Aluminum) or general handyman skills (Fiberglass or Wood Epoxy).
NO previous boat building skills are needed ... all you need is to follow the plans and you will be able to build a beautiful STEEL, ALUMINUM, FIBERGLASS & WOOD EPOXY sailboat for yourself and your family's happy days on the water.
1. ALL BOAT PLANS & FULL SIZE PATTERNS: Package Includes latest sail boat plans, SAILBOAT building plan updates & revisions, PLUS direct contact with the designer EMAIL BRUCE & come with a BONUS PLANS - placement of anodes, how to build a sea hood, how to build fuel & water tanks, engine installation, electrical schematic & plumbing; all included to assist you to build your boat. All the plans are sent by DOWNLOAD directly to your computer. The plans also include the 1,800 PAGE e-book BUILD YOUR OWN SAILBOAT

2. All BOAT PLANS & patterns come with a special DETAIL FOLIO on how to make some of your own fittings. All BOAT PLANS are have both metric & imperial measurements. All BOAT PLANS include FULL SIZE frame patterns at no extra charge.
3. Where FIBERGLASS is mentioned as a material this means Balsa sandwich / Foam sandwich, Single skin as the boat building material. Most WOOD / EPOXY designs can be built using either molded ply or strip plank or a combination of the two methods. Many STEEL designs can be built in ALUMINUM; please seek the designers advice first.
4. We personally check the BOAT PLANS for updates to make sure you receive the latest version; we are constantly updating all of our BOAT PLANS. PLUS you have direct contact with the designer Bruce Roberts-Goodson.
EMAIL BRUCE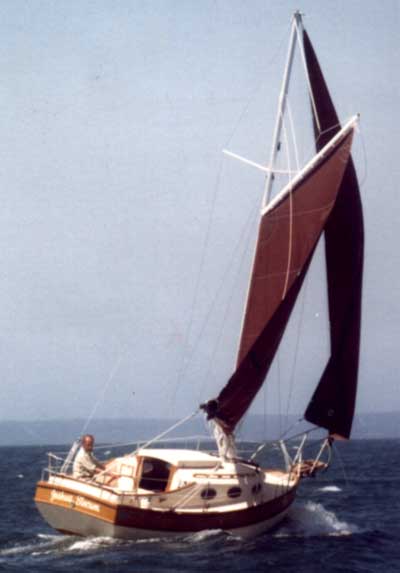 NEW ! SUPER STUDY BOAT PLANS ... Delivered by DOWNLOAD to your computer. The study plans have lists of materials & equipment etc & these will be useful in costing out the complete boat.
Each STUDY PLAN contains ALL the construction drawings for each material - STEEL, ALUMINUM, FIBERGLASS & WOOD EPOXY as applicable to the particular boat plan - with up to 25 sheets per plan!
Lists of materials - Technical information - Numerous construction drawings are all included. You can view & print the drawings in full or in sections. BUILDING PHOTOS are included in the study plan package. PLUS you receive a FREE ( VALUE £69.00 )
e-book BUILD YOUR OWN BOAT.

---
STUDY PLANS PACKAGE SPRAY 22
FIBERGLASS, STEEL, ALUMINUM, WOOD /EPOXY.

£69.00 - us$89.00 - €79.00 - A$130.00

To order STUDY PLANS go to SPECIALS PAGE
and click on €79.00 BUY NOW BUTTON

Spray 22 Trailerable ... boat plans include Gaff rig . Bermudian rig . Junk rig
Over 500 Spray 22s have already been completed and we have received many favourable reports from the various owners. One example was built at our Marine Park in Australia and rigorously tested; these reports are included in Bruce's book "Spray. The Ultimate Cruising Boat". This well proven small Spray can be built in either a Multi-Chine Hull shape with Steel, Aluminium or Wood Epoxy utilising sheet ply, or in Round Bilge with Fibreglass (C-Flex or Airex Foam). To the original gaff rig shown, we have added a Bermudan sail plan as an alternative.

The full size boat plans come complete with trailer boat plans, details folio, fully lofted frame patterns, all construction details and our full back up advice service should you need while building.

There are over 5,000 Sprays already sailing world wide plus over 1,000 currently being built from our boat plans and STEEL OR ALUMINUM PLANS & CUTTING FILES. We have been willing to listen to every combination of idea's about this wonderful boat and several layouts have been drawn. Many of these features are interchangeable between the various versions.

After several builders asked for a trailerable stretched version of the Spray 22, we produced the Spray 27.....This boat is incredibly popular ... over 300 sailing world-wide. There are two basic layouts - either regular or pilot house - and either can be rigged with a gaff sail plan or as a Bermudan sloop. Both regular Trunk cabin and Pilot house versions for each material - STEEL, ALUMINUM, FIBERGLASS & WOOD EPOXY as applicable to the particular boat plan - with up the boat plans.
| | | |
| --- | --- | --- |
| L.O.A. | 7.31 m | 24' 0" |
| L.O.D. | 6.50 m | 21' 4" |
| L.W.L. | 5.20 m | 16' 11" |
| BEAM | 2.39 m | 7' 10" |
| DRAFT | 0.76 m | 2' 6'' |
| Trailerable Weight | 1,007 kg | 2,219 lb |
| Loaded Displ | 1,331 kg | 2,935 lb |
| BALLAST | 317 kg | 700 lb |
Spray 22

Gaff sloop shown above. Bermudian Sloop & Junk rig also included with boat plans & study boat plans.

SPRAY 22 September 2009
Hi, I received the boatboat plans last week, I was almost overwhelmed by all the information, but/and it looks great: I will study it more carefully when I have some time off from work, and then I will come back to you with more feedback and questions. Best regards, Benjamin

SPRAY 22 OWNER - Seeking extra information.

Hi Bruce and Andrew, Thanks very much for the information and plans you attached. I'm astounded by such a rapid and comprehensive response! Have a good Easter, Jim

Boat plans include Gaff rig . Bermudian rig . Junk rig

Spray 22

Here are the three views of the Spray 22; deck plan and profile plan show the attractive forward end of the cabin; we have seen this feature on some completed boats and it looks great. The accommodation as designed allows for generous sitting headroom; a pop top arrangement over the main hatchway in the area of the galley allows for full standing headroom in that area.

---

Hello, I'm building a yacht designed by Spray 370 D
The work is done, my father and I and two hired employee. Attached are some photos of the construction process. Perhaps the photos will be of interest to you.

On one of the shows photo of the yacht plywood Spray 22 We built it 5 years ago. I love this boat, but for my family requires more room than the Spray 22 ship. On the new Spray 340 the rig will be gaff. Thank you. Sincerely, Igor.

Spray 22

Here we see the first Spray 22 that was built at our Marine Park boatyard in Brisbane Australia.

There is an extensive article in our e-book BUILD YOUR OWN SPRAY about the sea trials of this particular boat.

We include a FREE copy of the e-book BUILD YOUR OWN SPRAY with every study plan on DOWNLOAD or on USB

The Spray 22 is an ideal first boatbuilding project; we designed this boat to be built in the average garage over the Summer.

The Spray 22 is easily trailerable and although we do not recommend this boat as long distance voyager; many Spray 22's have made some interesting passages.

Spray 22

Aluminum is one option to build the Spray 22; here is a nice example being built in Europe; more on this boat is our e-book BUILD YOUR OWN SPRAY

ALUMINUM SPRAY 22
Hi, Here are some of the pictures from the weekend , We had a slip for 5 days and made the most of it. We did raise the mast up and a jib and we took her sailing, it handle really well. the winds must of been around 20 kmh and we had good speed ... The little engine pushes her at 10 kmh . it is vary quick to respond whether it be under sail or power. I couldn't be more please. everything worked as it should and for a small boat its vary stable. lots of good comments from other boat owners. Unfortunately we had to take her back out. That was a little depressing. We are going to paint her up now and finish all the rigging and hardware. Georges Leduc

STUDY PLAN PACKAGES ON DOWNLOAD or on USB
- GIVE ACCESS TO HUNDREDS OF step by step BOAT & STEEL OR ALUMINUM PLANS & CUTTING FILES ASSEMBLY PHOTOS

Patrick Slevin's Spray 22

Dear Bruce, Please allow me to introduce myself. My name is Patrick Slevin and I have been an avid Spray fan for many years. Having just recently acquired access to the Internet through work (hence the email address), My first web-site visit was to yours.

I purchased a set of boat plans from you in May 1985 for a timber Spray 22 which I proceeded to build with much assistance from my father.
The boat was launched on 4th November 1989 in the Huon river south of Hobart, and until now has been kept in various ports in southern Tasmania.

I have recently moved to Melbourne, Victoria for work and have relocated my boat "Carita 4" to a yacht harbour in Westernport Bay. I thought you might find it interesting that my Spray 22 is not alone there as there are two others located at the same marina. One built from steel and the other is fibre glass. As yet I have not been in contact with the owners but intend to do so as summer rolls around.

For three boats of the same design, built from three different materials, it is surprising how they all differ as each owner/builder has their own ideas etc. for example there are three slightly different rigs, the portholes are all different, the steel version appears to have wider decks and a deeper cockpit. I have also come across a fourth Spray22 built in steel and she is based at Smithton on the northwest coast of Tasmania.

I am looking forward to hearing from you and of some information on the Spray 22's being posted on the Spray home page.

Hopefully once summer gets here I may be able to obtain photos of three of these boats out sailing together and will pass these on.
Regards Patrick Slevin

Spray 22

The Spray 22 accommodation shown in this photo was built to our boat plans but of course you can customize the interior to suit your requirements.