BRUCE ROBERTS YACHT DESIGN

Bruce Roberts-Goodson
EMAIL BRUCE
---
These sailboat plans feature simple & easy to follow STEP by STEP CONSTRUCTION for STEEL, ALUMINUM, FIBERGLASS & WOOD EPOXY building methods. These sailboats can be built by any person with welding skills (Steel or Aluminum) or general handyman skills (Fiberglass or Wood Epoxy).
NO previous boat building skills are needed ... all you need is to follow the plans and you will be able to build a beautiful STEEL, ALUMINUM, FIBERGLASS & WOOD EPOXY sailboat for yourself and your family's happy days on the water.
1. ALL BOAT PLANS & FULL SIZE PATTERNS: Package Includes latest sail boat plans, SAILBOAT building plan updates & revisions, PLUS direct contact with the designer EMAIL BRUCE & come with a BONUS PLANS - placement of anodes, how to build a sea hood, how to build fuel & water tanks, engine installation, electrical schematic & plumbing; all included to assist you to build your boat. All the plans are sent by DOWNLOAD directly to your computer. The plans also include the 1,800 PAGE e-book BUILD YOUR OWN SAILBOAT

2. All BOAT PLANS & patterns come with a special DETAIL FOLIO on how to make some of your own fittings. All BOAT PLANS are have both metric & imperial measurements. All BOAT PLANS include FULL SIZE frame patterns at no extra charge.
3. Where FIBERGLASS is mentioned as a material this means Balsa sandwich / Foam sandwich, Single skin as the boat building material. Most WOOD / EPOXY designs can be built using either molded ply or strip plank or a combination of the two methods. Many STEEL designs can be built in ALUMINUM; please seek the designers advice first.
4. We personally check the BOAT PLANS for updates to make sure you receive the latest version; we are constantly updating all of our BOAT PLANS. PLUS you have direct contact with the designer Bruce Roberts-Goodson.
EMAIL BRUCE
---
TOM THUMB 26 - 28 - 305 - 330
STEEL or ALUMINUM
Plans & FULL SIZE patterns available.
The Study Plans cover all four versions.
This is one of my favourite designs. Long waterline length, enough displacement so that it won't be thrown around by waves, shoal draft, strong and very economical to build. No wonder the Tom Thumb series is so popular.
The boat plans for the Tom Thumb series are available for the quick and easy multi-chine steel or aluminium construction.
Starting with the Tom Thumb 26 with a beam of 10'-4" / 3.20 meters and headroom of 6'-3" / 1.9 meters the interior is very spacious for a vessel this size. Her hull speed is a fraction over 6 knots. This vessel will take you anywhere you are capable of taking her. The large scale boat plans include full size frame patterns and you will find this boat an ideal first steel boatbuilding project.
ALL TOM THUMB VERSIONS SHOWN IN the ONE STUDY PLAN PACKAGE.
TOM THUMB 26

TOM THUMB 28
TOM THUMB 305
TOM THUMB 330
L.O.A

7.92 m
25' 11"

8.53 m
28' 0"
9.25 m
30' 4"
10.13 m
33'-8"
L.W.L.

7.24 m
23' 9"

7.47 m
24' 6"
8.53 m
28' 0"
9.60 m
31'-6"
BEAM

3.20 m
10' 4"

3.05 m
10'-0"
3.35 m
11'-0"
3.73 m
12'-3"
DRAFT

1.22 m
4' 0"

1.37 m
4' 6"
1.37 m
4' 6"
1.51 m
4' 10"
DISPLACEMENT

4,082 kg
9,000 lb

5,103 kg
11,250 lb
6,010kg
13,350 lb
6,690kg
14,750 lb
BALLAST

1,360 kg
3,000 lb

1,700 kg
3,550 lb
1,800 kg
3,968 lb
2,000 kg
4,409 lb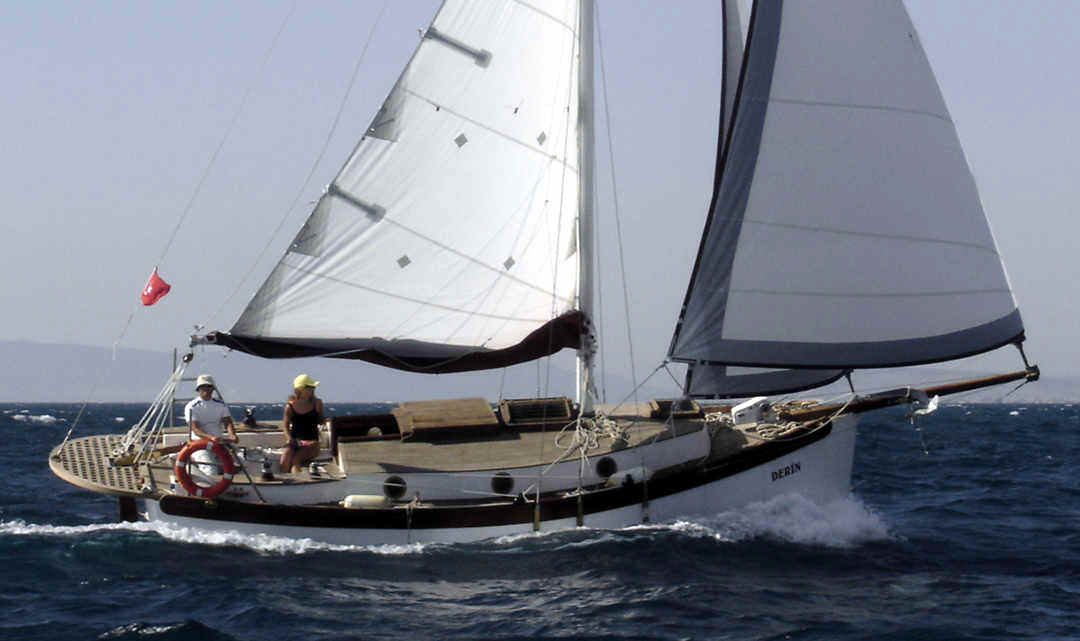 TOM THUMB 26
Dear Bruce, I built a tom thumb 26 as you can see the photo attached. I would like to thank you for this perfect design. I add a boomkin and a long bow also cutter rig. And I add additional 250 kg in keel because of larger sail area. Round shape and teak deck and mahogany works for traditional boat appearance.
She is cruising perfect and she can reach 6 - 7 knot easily in between 3-7 beufort with sails. I also change the accommodation according to my requirements with mahogany work. I cruised over 1000 miles in this summer with her & I am totally satisfied & I am proud of her. I strongly recommend this perfect design for all the sailors that want to built their boat by themselves. Thanks and best Regards, Hakan GOKMEN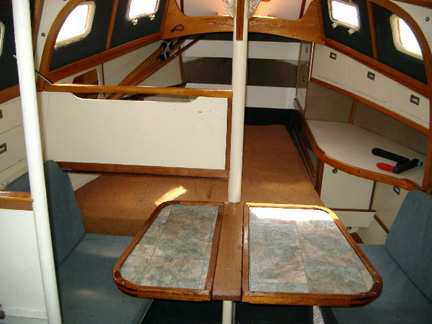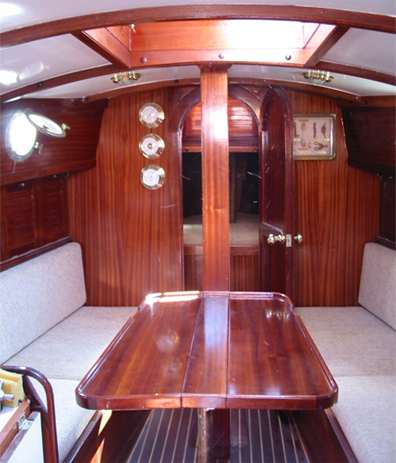 Here we see the interior of the Tom Thumb 26 built by Hakan GOKMEN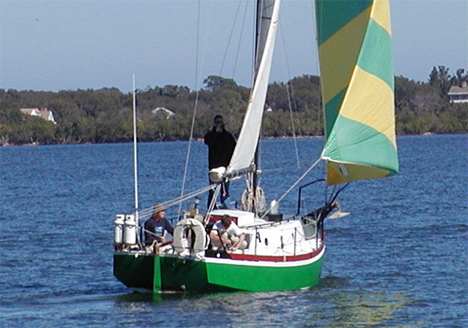 Hi Bruce,
Attached is a picture of "Margarita" crewed by my nephews, headed south again ...This shot is on Indian River in Cocoa Fla...They are headed for Bahamas and Turks...I launched this boat in 1990 and she looks like a newborn 20 yrs. later...and even better...Someday I might get her back but in the meantime she is turning heads....Please use the pictures and script as you wish...Regards. John Larkum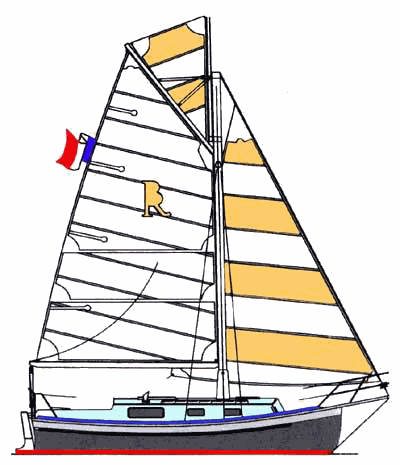 The Tom Thumb will accept Gaff, Bermudian, Junk rigs.


Tom Thumb 26 interior.

Tom Thumb 28 interior.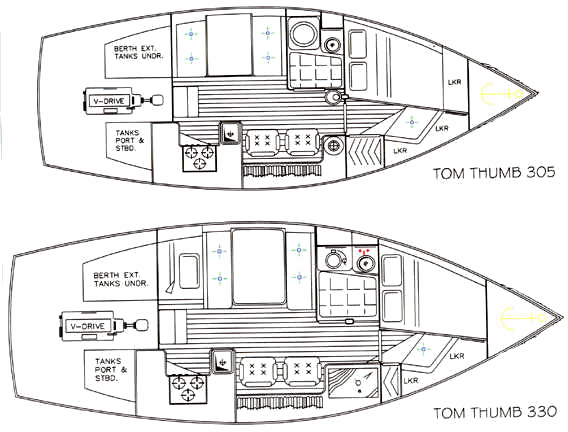 Above: Tom Thumb 305 & 330 interior layouts.
The Study plans have photos of several more Tom Thumb sailboats that have been built and cruised throughout the world.