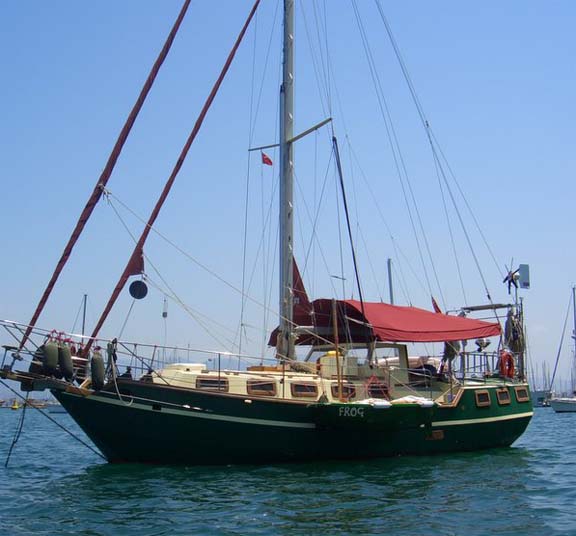 CRUISING IN EMERALD STEEL


Dear Bruce,

This email is 29 years overdue

.

In 1985 we purchased your blueprints for the 38' steel spray and the next year and a half we spent all our time building her in San Diego, Ca. At that time I , Jules, was 35 and my wife, Suzie, was 22. My wife learned how to weld for the project and so she did all of the welding. I did all of the cutting, grinding and general encouragement.

The next 20 years we sailed between 45 south and 55 north in the Pacific ocean. She has been our full time home ever since. She is very comfortable and a safe cruiser during the gales and storms of high latitudes.

We even went unharmed during Hurricane Iniki in Hawaii 1992. We would like to thank you for the fine design for which we have received many compliments over the years. Picture included.

We recently posted 3 clips of her on U-TUBE called The voyage of Emerald Steel. You might be interested in viewing them. Thank You again, Julius and Suzie Hanak S/V Emerald Steel San Diego, Ca. U.S.A
NEW ! SUPER STUDY BOAT PLANS ... Delivered by DOWNLOAD to your computer within 12 hours of you placing your order. The study plans have lists of materials & equipment etc & these will be useful in costing out the complete boat.
Each STUDY PLAN contains ALL the construction drawings for each material - STEEL & ALUMINUM as applicable to the particular boat plan - with up to 25 sheets per plan! Lists of materials - Technical information - Numerous construction drawings are all included.
You can view & print the drawings in full or in sections. BUILDING PHOTOS are included in the study plan package. PLUS you receive a FREE ( VALUE £69.00 ) e-book BUILD YOUR OWN BOAT.
---
38

FIBERGLASS, STEEL, ALUMINUM, WOOD /EPOXY.



£69.00 - $85.

00 - €79.

00
To order STUDY PLANS go to SPECIALS PAGE and
click on €79 BUY NOW BUTTON
SPECIAL OFFER - ANY THREE STUDY PLANS FOR

£99.00 - $125.oo- €114.oo
STEP BY STEP ASSEMBLY PHOTOS INCLUDED WITH ALL STUDY PLANS
Spray 38 - STEEL boat plans & FRAME PATTERNS
Over 100 examples of this design can be found cruising in various parts of the world. Specially designed for Multi Chine Steel Construction only this Spray offers a more compact version of the popular Spray 40 and a larger aft cabin than the Spray 36.
boat plans come with both a ketch and cutter rig sail plan. Many Spray 38's are featured in Bruce's book "Spray. The Ultimate Cruising Boat". Several have been built with poop sterns, pilot houses and fitted with alternate rigs. See a Spray 36 being built in SPRAY STEEL OR ALUMINUM PLANS & CUTTING FILES PAGES
As there are SEVERAL THOUSAND Bruce Roberts' SPRAY SAILBOATS in service world-wide plus another 1,000 SPRAYS currently being built from our boat plans and patterns. We have been willing to listen to YOUR ideas about this wonderful boat and several boat plan layouts have been drawn with many features that are interchangeable between the various versions.
The Centennial Sprays are designed for building in Round bilge steel or Wood/Epoxy, and can be rigged with a variety of sail boat plans including a gaff schooner, Bmu cutter, junk rig etc. Custom sail boat plans and additional accommodation layouts may be drawn to suit your requirements for a reasonable fee.
NOW AVAILABLE AS A STEEL OR ALUMINUM PLANS & CUTTING FILES ... See a Spray 370 being built in SPRAY STEEL OR ALUMINUM PLANS & CUTTING FILES PAGES

Many of these Sprays have completed complete circumnavigations some more than once & usually with crews consisting only of two persons ! Check out our SPRAY NEWSLETTER for details.
| | | |
| --- | --- | --- |
| L.O.D. | 11.82 m | 38' 10" |
| L.W.L. | 9.65 m | 31' 8" |
| BEAM | 3.96 m | 13' 0" |
| DRAFT | 1.22 m to 1.52 m | 4' 0" to 5' 0" |
| DISPLACEMENT | 13,975 kg | 30,810 lb |
SPRAY 38
Multi chine steel

Bermudian ketch shown; Bmu. Cutter and Schooner Junk rig are also included with boat plans & study boat plans.

SPRAY 38
Multi chine steel

One of the several accommodation boat plans that can be used in the Spray 38 - You can choose and modify the accommodation to suit your own requirements.
SPRAY 38
Multi chine steel Built in the UK & recently cruising the Mediterranean
boat plans include Gaff rig . Bermudian rig . Junk rig

Hi Bruce and associates, I am proud to announce on Aug 2 ,1998 at Roundout Yacht club, on the Roundout river a tributary of the Hudson river in New York State. A Spray 38 steel was Launch at 2:00 in the afternoon christened the Royal Ark II ,it was christened with Boons Farm wine due to the fact my wife said we have no more money left for champagne.

I would like to say thank you for all the help your organization have given me over the years by the way it was 12 all together. I will be sending you a series of pictures of it construction.

I had called you last year but had to postpone the launching do to a mast problem. I will chronicle the building and send it to you. With all my heart I would like to thank you again. Timothy P Baker





SPRAY 38
Multi chine steel

22 March 2003 ...

Hello Mr. Bruce Roberts, I've attached nine photographs of a Roberts Spray-38 in steel, built from your boat plans.

This boat was fabricated by my Father and Brother. They have asked me to forward these photographs to you so that you can see another realization of your boat plans. They modified your boat plans to make an aft cockpit. Auxiliary power is provided by a Detroit 353 diesel engine, 86. Hp.

My Father is the owner. His name is Donald R. Bradley. My Brother provided many hours of expert help in its construction. His name is Jeffrey Bradley. The boat is registered from New Orleans, Louisiana, USA Thank you very much sir and best regards, Don Bradley, Jr.

Hello Bruce, these are some more pictures of the steel Spray 38 after launch built in Slidell, Louisiana, U.S. by my father, Don Bradley, and myself. You already have some posted on your site. She looks great rigged up! We have had her out a few times this summer and sails smoothly. I will also send some more interior shots and forward an email from a friend containing a couple of good shots.
SPECIAL INTRODUCTORY OFFER:
COMPLETE BOAT PLANS & FULL SIZE FRAME PATTERNS ... Delivered by DOWNLOAD to your computer within 12 hours of you placing your order. The plans have all the information you need to build your own boat..
Each plan contains all the construction drawings for STEEL & ALUMINUM construction, plus bonus drawings covering electrical, plumbing and engineering, everything you need to build your boat.
Plus you will receive a DETAIL FOLIO showing how to make many of your own boat fittings, lists of materials and equipment are all included plus all technical information, numerous construction drawings and written building instructions are all included.
You can view & print the drawings in full or in sections. BUILDING PHOTOS are included in the plan package. PLUS you receive a FREE ( VALUE £69.00 ) e-book BUILD YOUR OWN SAILBOAT.

---
COMPLETE PLANS & PATTERNS
SPRAY 38 ALL VERSIONS
£695 - $795 - €795
PLANS & PATTERNS EMAILBRUCE TODAY'S
SPECIAL OFFER & PAYMENT INFO.