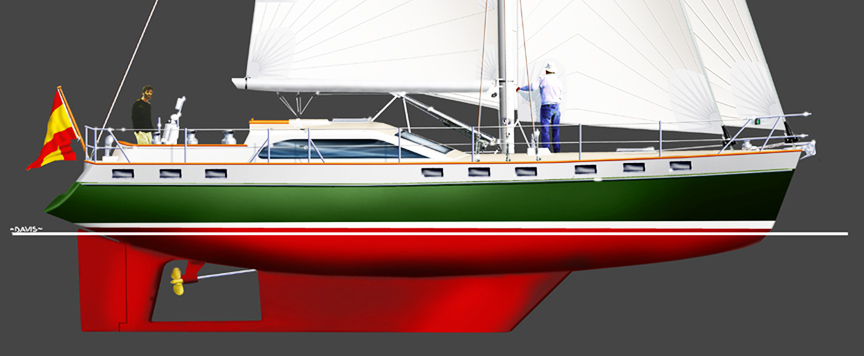 New York 65 - SAFETY SKEG IS AVAILABLE ON THIS BOAT. The Roberts safety skeg is designed to take
the best features from the LONG FIN / SKEG combination & add a SAFETY FACTOR.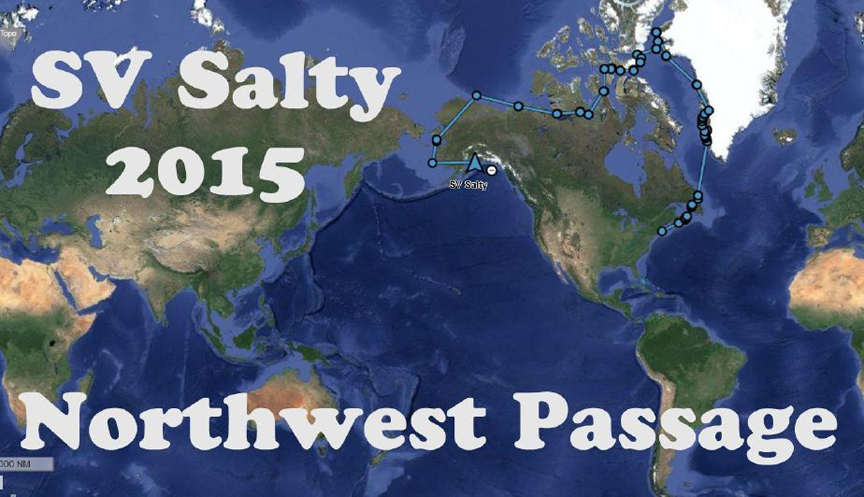 NEW YORK / VOYAGER 655 Transits the North West Passage. See STUDY PLANS for photos etc.

https://vimeo.com/139380892

A little over a year and a half ago, when my old sailing mate Mark Schrader informed me that e'd found the ideal boat for Around the Americas

www.aroundtheamericas.org , our planned expedition into the Northwest Passage and beyond, I was very pleased. But in all honesty, when he told me that the boat he'd discovered was a 20-year-old, Bruce Roberts designed steel cutter that'd been cruising in Mexican waters for the last decade, I was considerably less enthused. Now, after almost three hard months of nearly continuous travel, we're roughly two-thirds of the way along the Northwest Passage, and we've put literally thousands of miles behind us. And as far as our 64-foot yacht, Ocean Watch, is concerned, I can't imagine a better tool for the job at hand. She always had pretty lines, and that's a good sign. The previous owners, a husband-and-wife team of marine biologists who'd used the boat partly as a floating laboratory and also as their liveaboard home, had looked after her well. But her systems, wiring, plumbing, rig, and sails were old and tired. For the trip we had in mind, she'd need a total overhaul. Last fall and winter, under the direction of our first mate, Dave Logan, Ocean Watch was completely transformed in a Seattle boatyard.

Dave and I will be writing in depth about her refit in an upcoming print edition of Cruising World. For the time being, let me just say that when I drove out West last May to begin the voyage, I knew she'd undergone a ton of work. But I still couldn't believe my eyes. The last time I'd seen the old girl, as the saying goes, she'd been ridden hard and put away wet. Now she looked like she was ready for anything, and since we were bound for the Arctic Circle, that was a very good thing indeed.

In the months since, we've encountered all sorts of conditions, ranging from flat calms to small gales. Ocean Watch has performed flawlessly across the board. On the trip north from Mexico, our average speed was less than 5 knots, and we were pushing hard. These days, with her new Lugger Marine diesel engine, she makes a steady 7.5 knots under power in a moderate seaway at a very efficient 1500 rpm. Under sail, with her new suit of canvas from Carol Hasse's Port Townsend Sails loft (and a revamped rig, including a new mast track to replace the former in-mast furling mainsail), we've made speeds of nearly 10 knots when close-reaching in 15 knots of wind.

Honestly, it's like we have a brand-new boat. Luckily, we've yet to sail Ocean Watch in truly heavy air and storm-tossed seas. That day, no doubt, is coming soon. But if what we've seen thus far is any indication, we're more than a little optimistic about how she'll fare. We've got a lot of confidence in our boat, which any sailor knows is a very good thing to have. And considering my first misgivings, that's been a very pleasant surprise.