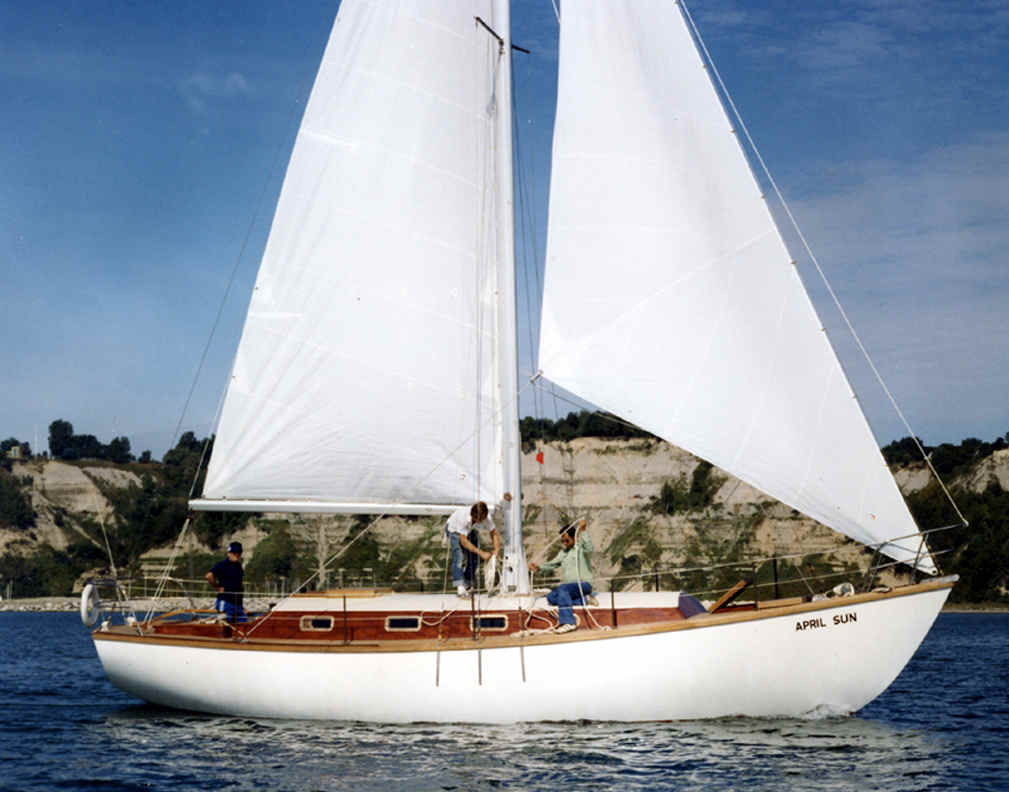 Roberts 36 B built in Canada
| | |
| --- | --- |
| | |
| | |
NEW ! SUPER STUDY BOAT PLANS ... Delivered by DOWNLOAD to your computer within 12 hours of you placing your order. The study plans have lists of materials & equipment etc & these will be useful in costing out the complete boat.
Each STUDY PLAN contains ALL the construction drawings for each material - STEEL, ALUMINUM as applicable to the particular boat plan - with up to 25 sheets per plan!
Lists of materials - Technical information - Numerous construction drawings are all included. You can view & print the drawings in full or in sections. BUILDING PHOTOS are included in the study plan package. PLUS you receive a FREE ( VALUE £69.00 ) e-book BUILD YOUR OWN BOAT. STEP BY STEP ASSEMBLY PHOTOS INCLUDED WITH THE STUDY PLANS & COMPLETE PLANS

---
36


STEEL, ALUMINUM



£69.00 - $85.00 - €79.00


To order STUDY PLANS go to SPECIALS PAGE

and click on €79.00 BUY NOW BUTTON



SPECIAL OFFER - ANY THREE STUDY PLANS FOR



£99.00 - $125.00 - €114.00

CLICK HERE TO LEARN MORE


STEP BY STEP ASSEMBLY PHOTOS INCLUDED WITH ALL STUDY PLANS

ROBERTS 36
This design is a well proven world cruiser as over 300 are currently sailing in different parts of the world and the reports are excellent. The Roberts 36 can be rigged as a cutter or ketch and different layouts are available. You can build the Roberts 36 in Multi Chine Steel or Aluminium . The complete boat plans package include many sheets of large-scale drawings, plus full-size patterns for the hull, deck and cabin top beams, etc.
L.O.D.
11.20 m
36' 9"
L.W.L.
8.76 m
28' 9"
BEAM
3.35 m
11' 0"
DRAFT
(lead ballast)
4' 0"
(scrap steel ballast)
4' 9"
DISPL.
(Fg or Wood)
14,750 lb
(steel)
18,000 lb
BALLAST
6,275 lb
AUX. PWR
20 TO 33 hp
Roberts 36 Version A

Here we see just one of several possible
layouts for this boat. Full headroom is
featured in all versions.

Roberts 36 Version B

Roberts 36 Version A

Here we see the Roberts 36 fitted with the cutter rig as per the boat plans. Other rigs are possible including the junk rig shown below.

Dear Mr Roberts-Goodson, I've attached a few photos of my father's Roberts 36 in case you want some more shots to post on your website, and just to show you another result of one of your designs. This is probably a typical email for your inbox, but I reckon "Alcazar" is great proof that a family build doesn't necessarily mean an amateur finish! (Biased and proud!)

The Alcazar Story: My father, uncles and grandfather bought the beginnings of a Roberts 36 hull in a rough shed in Kaiapoi, New Zealand. Over the next 7 years they finished the hull in glass, flipped it over and poured time and effort inside it – mostly on one evening and a Sunday morning each week. Slow perhaps, but not bad for a Dentist, a Doctor, a Physio and a Pilot who were all raising families and building homes and businesses at the same time! The cutter rigged yacht was launched on 27Sep1986 in the Kaiapoi River and christened "Alcazar."

You'll be able to tell from the photos that a few minor modifications were made above the gunwale: A gentle extension to 37 feet, a safe centre cockpit allowed for a roomy stern cabin and very practical stern deck, the boom was extended to allow a full tent over the cockpit when anchored up in the rain, and the mainsheet was modelled on the Cornish 3-point block/tackle approach to eliminate a traveller and simplify mainsheeting for family use. Down below, the theme of family-use continued with the ceiling height slightly raised to allow for the men over 6 feet, the Heads were moved athwart the engine and closer to the main hatch, and all bunks allow 6'6" length.

The whole interior of the boat was finished in Kauri (a native NZ timber) after a local grain mill closed and century-old Kauri timber was available at NZ$200 a trailer load. Without knowing the later explosion of Kauri value, even the joinery framing ended up as honey-coloured Kauri. The odd effect on the main bulkheads are from 100years of barley running down kauri chutes and polishing the grain of the wood. With twin forepeak berths, a droppable table to make a double berth plus single berth plus pilot berth in the main cabin, and room for 2 (or more if they're the grandkids) in the stern cabin, makes for 7-9 sleeping – damn near best-in-class for a boat this size! The family did all the build themselves, with the odd use of local town expertise (e.g. welding and upholstery) and a fair amount of referral to 10 years worth of yachting magazines.

A marinised 40horse Perkins was installed above a Volvo saildrive unit, and above deck the genoa is roller furled with a slab-reef main and hanked staysail. Normal engine cruising is 6 knots and sailing will see a glorious 7knots – although moments of adrenaline have seen 8.5kts. She sails with a wonderfully comfy manner: the extra in the main (from the longer boom) tends to gently round her up when she's overpowered although use of the staysail counters this. Helm tends to be comfortingly solid but not heavy and she is very predictable when sailing or berthing.

Over the years the boat has been in regular use in NZ's Marlborough Sounds. (Normally about 4-8 weeks a year.) Apart from rebuilding the rudder skeg last year, the boat has held together wonderfully and endured through large seas and burning sun. I had my teeth cut on her and have gone on to 2 Fastnets and a win at New York yacht club regatta 2007 (Albeit in yachts containing a bit more carbon!), but few things on the water beats cruising away on our Roberts 36.

Alcazar is now solely owned by my parents who are starting to train the next generation as the grandchildren turn up on the dock each summer. Cheer for designing a great yacht! Kind regards,
Will Blackie (On behalf of Al Blackie – builder and owner of Alcazar)

Kaiapoi, New Zealand

Customized version of by Javier Uguet of Resayre - Spain.

Roberts 36 Version A

This Roberts 36 was built in Australia over 20 years ago - the boat is still going strong today and resale value has proven that one can make money on building ones own boat.

WHAT A TRIP IN A ROBERTS 36

Hello Bruce, I was contacting you nearly 2 years ago asking about rigging improvements for Southern ocean circumnavigation on Roberts 36. It was OK until my first rollover. It did not take the water impact.

I nearly made it around, single-handed. From NZ directly to Antarctic Peninsula, South Shetlands, Falklands, circumnavigating South Georgia, South Sandwich, Cape Town, Crozets, Kerguelen.

Following your advice I was extremely careful around ice. Heavy seas deformed the hull a bit but she is safe. I capsized on my way to Hobart - 900 miles to go, dismasted. I made it on jury rig to Portland Victoria after 26 days.


Could you tell me how long mast I actually need please? It is on the bottom on 46 south°, too far to measure it. I´d prefer the shortest reasonable mast possible. I have an ambition to make a mast which would survive a roll over (not that I want to try again).

My former aluminum mast (proper size) broke in tabernacle (it stayed on two pins, I won't make this again). I have got a wooden mast from a smaller boat which I am going to use now. I will make it longer. Thank you Daniel Petrasek SY Waterbird

Roberts 36 Version A

Roberts 36 built as a Trawler Yacht. This boat recently changed hands in France

Roberts 36 Version A

This attractive Roberts 36A .. Pilot house version was built in Canada. This is what the surveyor had to say about this boat:

Bruce: The boat is in excellent condition. In fact, she is probably one of the best-built steel boat I have ever seen anywhere. Are there still study boat plans available, or at least, Sail boat plans/specs ?

In any case, Zen (the name of this Roberts 36 pilothouse) is a gem. The interior was built with professionalism and attention to detail. After my survey, I basically found one loose nut on the engine, and a couple of very small details. The major recommendation concerned a very slippery deck. Otherwise, this is a great boat, airy, with an interior that is very well laid out, a great deck, comfortable cockpit, and so on.

Roberts 36 Version A

One of many Junk rigged Roberts designs, this Roberts 36 was built in Melbourne Australia

Hey Bruce, Oh my god!, My dad built that 36footer Junk rig!!! I lived on her for four years. We had to sell her a couple of years back, and i look for her everywhere we go where there is water. Always looking for the short timber masts. I had another dream that I found her, so i decided to type 'Roberts 36 junk rig' into google, and there she was, i cant believe it.

Do you know where she was last? Or what her name is, it used to be Minerva 3,? Last we heard she had changed hands twice and was with a guy named Bill. Those pictures, of the bulkhead and that, i drew them when i was 10 or eleven, just before we sold her. I cant believe they are still on her, happy but this has made my day, you cant believe. I loved that boat so much, coz she has a bath and no one else's yacht has a bath, not back then anyway.


Sad to say we are land lubbers now, but if you can tell me anything about her, it would be so awesome. Best boat you ever designed!

Your Sincerely Joanna Coleman, 16

Roberts 36 Version A

Attractive cruising interior of the junk rigged Roberts 36

Those pictures, of the bulkhead and that, i drew them when i was 10 or eleven, just before we sold her. I cant believe they are still on her, happy but this has made my day, you can't believe. I loved that boat so much, coz she has a bath and no one else's yacht has a bath, not back then anyway.

Joanna Coleman, 16

Roberts 36 Version A ... Pilot House version.

Roberts 36 "Lucy 2" built Rhea Adams. The raised deck version of this design has proven very popular. This boat can be built in Multi Chine Steel or Fiberglass.


STUDY PLAN PACKAGES ON DOWNLOAD - GIVE ACCESS TO MANY step by step BOAT CONSTRUCTION PHOTOS + PHOTOS OF COMPLETED BOATS ETC.


Roberts 36 Version A ... Pilot House version.

Steel Pilot House Cutter built in UK

Roberts Dinghy
Build in Fiberglass, Plywood or Aluminum

FREE with every set of boat plans and frame patterns you will receive boat plans and full size patterns for the Roberts Dinghy that you can build in fiberglass, plywood or aluminum as shown below.
Hi Bruce, I understand you met a good friend of mine recently at the Miami Boat Show...Jim Bowe from Daytona Beach. He crewed with Lynn and me on the Bermuda-Azore leg in 1999. He is a good racing sailor as well. Our best day run was 166nm with his help. Ppalu is in storage at the moment on the Magra river in northern Italy, where we will return in May to continue our Med cruise. Our 36' has done everything we had hoped for in a cruising vessel and more. We have had our dreams fullfilled with your boat and books and we continue to promote Bruce Goodson whenever we can....also say hello to All the best, Don Reynolds
---
HI Bruce,
I had a recent survey on PPALU. I wanted to send you the surveyor's comments, but need your current address. I'll be happy to send you a copy. I know you would like it. Ppalu has made two transatlantic passages plus a Med cruise and Caribbean Island hops. I've always had great comments on her beauty everywhere we've sailed. I know you have moved well beyond the design phase of your 36' cutter and I have recommended your designs to many! Lynn and I have had a glorious time with our boat and will probably keep her in good shape. I have a grandson now that hopefully will take up sailing.
I met you at the Annapolis boat show back in 1998 and we talked a little about Rhea Adams, who, I'm sure you remember from way back. I don't his status at all, but he used to live about ten miles from me. Anyway Bruce, I hope all is well with you and family and sometime we'll meet again, perhaps at another boat show. Say hi to Dane and Michelle for me....all the best !
SPECIAL INTRODUCTORY OFFER: COMPLETE BOAT PLANS & FULL SIZE FRAME PATTERNS ... Delivered by DOWNLOAD to your computer within 12 hours of you placing your order. The plans have or all the information you need to build your own boat.. Each plan contains all the construction drawings for STEEL & ALUMINUM construction, plus bonus drawings covering electrical, plumbing and engineering, everything you need to build your boat.
Plus you will receive a DETAIL FOLIO showing how to make many of your own boat fittings, lists of materials and equipment are all included plus all technical information, numerous construction drawings and written building instructions are all included.
You can view & print the drawings in full or in sections. BUILDING PHOTOS are included in the plan package. PLUS you receive a FREE ( VALUE £69.00 ) e-book BUILD YOUR OWN SAILBOAT .. Only available at this price if you order off this web site.

---

COMPLETE PLANS & PATTERNS

ROBERTS 36

STEEL, ALUMINUM,
€295

To order the PLANS & PATTERNS go to SPECIALS PAGE
and click on €295.00 BUY NOW BUTTON
Your plans and PATTERNS will be sent to you by
DOWNLOAD to your computer.
SAILBOAT DESIGNS POWERBOAT DESIGNS